NOTE: This is a mirror of the page climate.nasa.gov/scientific-consensus on 2016-12-16, posted here for safe keeping.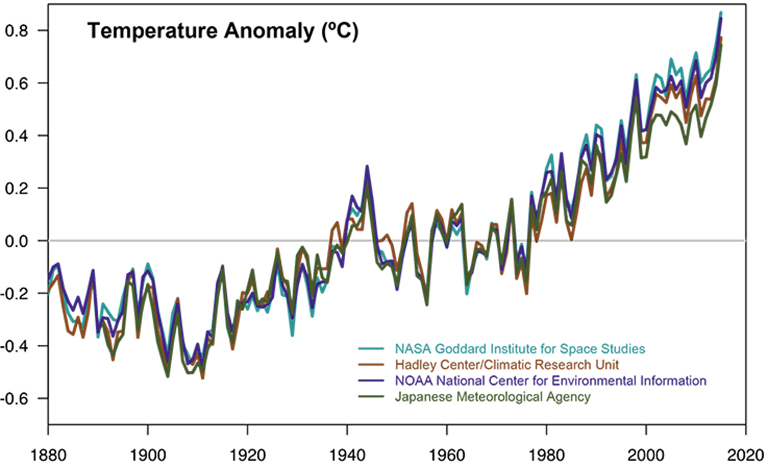 Multiple studies published in peer-reviewed scientific journals1 show that 97 percent or more of actively publishing climate scientists agree: Climate-warming trends over the past century are extremely likely due to human activities. In addition, most of the leading scientific organizations worldwide have issued public statements endorsing this position. The following is a partial list of these organizations, along with links to their published statements and a selection of related resources.

AMERICAN SCIENTIFIC SOCIETIES
Statement on climate change from 18 scientific associations
"Observations throughout the world make it clear that climate change is occurring, and rigorous scientific research demonstrates that the greenhouse gases emitted by human activities are the primary driver." (2009)2
SCIENCE ACADEMIES
International academies: Joint statement
"Climate change is real. There will always be uncertainty in understanding a system as complex as the world's climate. However there is now strong evidence that significant global warming is occurring. The evidence comes from direct measurements of rising surface air temperatures and subsurface ocean temperatures and from phenomena such as increases in average global sea levels, retreating glaciers, and changes to many physical and biological systems. It is likely that most of the warming in recent decades can be attributed to human activities (IPCC 2001)." (2005, 11 international science academies)10
U.S. GOVERNMENT AGENCIES
INTERGOVERNMENTAL BODIES
OTHER RESOURCES
List of worldwide scientific organizations
The following page lists the nearly 200 worldwide scientific organizations that hold the position that climate change has been caused by human action.
opr.ca.gov/s_listoforganizations.php
U.S. agencies
The following page contains information on what federal agencies are doing to adapt to climate change.
www.c2es.org/docUploads/federal-agencies-adaptation.pdf
References
J. Cook, et al, "Consensus on consensus: a synthesis of consensus estimates on human-caused global warming," Environmental Research Letters Vol. 11 No. 4, (13 April 2016); DOI:10.1088/1748-9326/11/4/048002

Quotation from page 6: "The number of papers rejecting AGW [Anthropogenic, or human-caused, Global Warming] is a miniscule proportion of the published research, with the percentage slightly decreasing over time. Among papers expressing a position on AGW, an overwhelming percentage (97.2% based on self-ratings, 97.1% based on abstract ratings) endorses the scientific consensus on AGW."

J. Cook, et al, "Quantifying the consensus on anthropogenic global warming in the scientific literature," Environmental Research Letters Vol. 8 No. 2, (15 May 2013); DOI:10.1088/1748-9326/8/2/024024

Quotation from page 3: "Among abstracts that expressed a position on AGW, 97.1% endorsed the scientific consensus. Among scientists who expressed a position on AGW in their abstract, 98.4% endorsed the consensus."

W. R. L. Anderegg, "Expert Credibility in Climate Change," Proceedings of the National Academy of Sciences Vol. 107 No. 27, 12107-12109 (21 June 2010); DOI: 10.1073/pnas.1003187107.

P. T. Doran & M. K. Zimmerman, "Examining the Scientific Consensus on Climate Change," Eos Transactions American Geophysical Union Vol. 90 Issue 3 (2009), 22; DOI: 10.1029/2009EO030002.

N. Oreskes, "Beyond the Ivory Tower: The Scientific Consensus on Climate Change," Science Vol. 306 no. 5702, p. 1686 (3 December 2004); DOI: 10.1126/science.1103618.